SCOUTS South Africa is the biggest youth organisation in the country with over 190 000 children, youths and adults nationwide.  We are members of the "World Organisation of the Scout Movement" (WOSM) Today there are more than 16 million members in over 150 countries and territories   We are open for all children (5-6 and 7-10), teens (11-17), youths (18-30) and adults who want to embrace their adventurous spirit, enjoy challenging activities and make a positive impact on their communities.
Scouting changes lives and helps children and young adults to reach their full potential. Leadership abilities, teamwork,  self-motivation, commitment, perseverance, environmental and cultural awareness and strong values are just a few of the life skills our members acquire whilst having fun and 'learning by doing'. Positive peer pressure and outdoor activities all contribute to individuals growing up with the belief that they can and are changing the world in order to leave it a better place than how they found it.
Not every child or youth likes the same thing. Our award-winning programmes and projects provide a wide range of activities for them to choose from. Several challenges contribute to their growth and advancement through the Scouting programmes and others are specifically designed to appeal to their interests.  You can join either phase without previous scouting experience.
is the 1st phase of scouting and follow the Meerkat trail where they learn new skills, play educational games and take on challenges divided into several themes. This Early Childhood Development programme was developed to address a direct need in our communities.
Saturday 09:00 – 10:30
(parents need to attend with children)
is the 2nd phase of scouting and follow the Cub trail where they learn new skills, play games, complete creative crafts, enjoy fun camps and community projects.  Along their journey they make new friends and acquire several badges.
Being a Cub is fun and exciting! They learn new things, make new friends, do good turns to help people and protect nature around you!   Play, sing and build things with friends, discover and explore new places, plants, animals, cultures and technologies, camp or have a sleepover.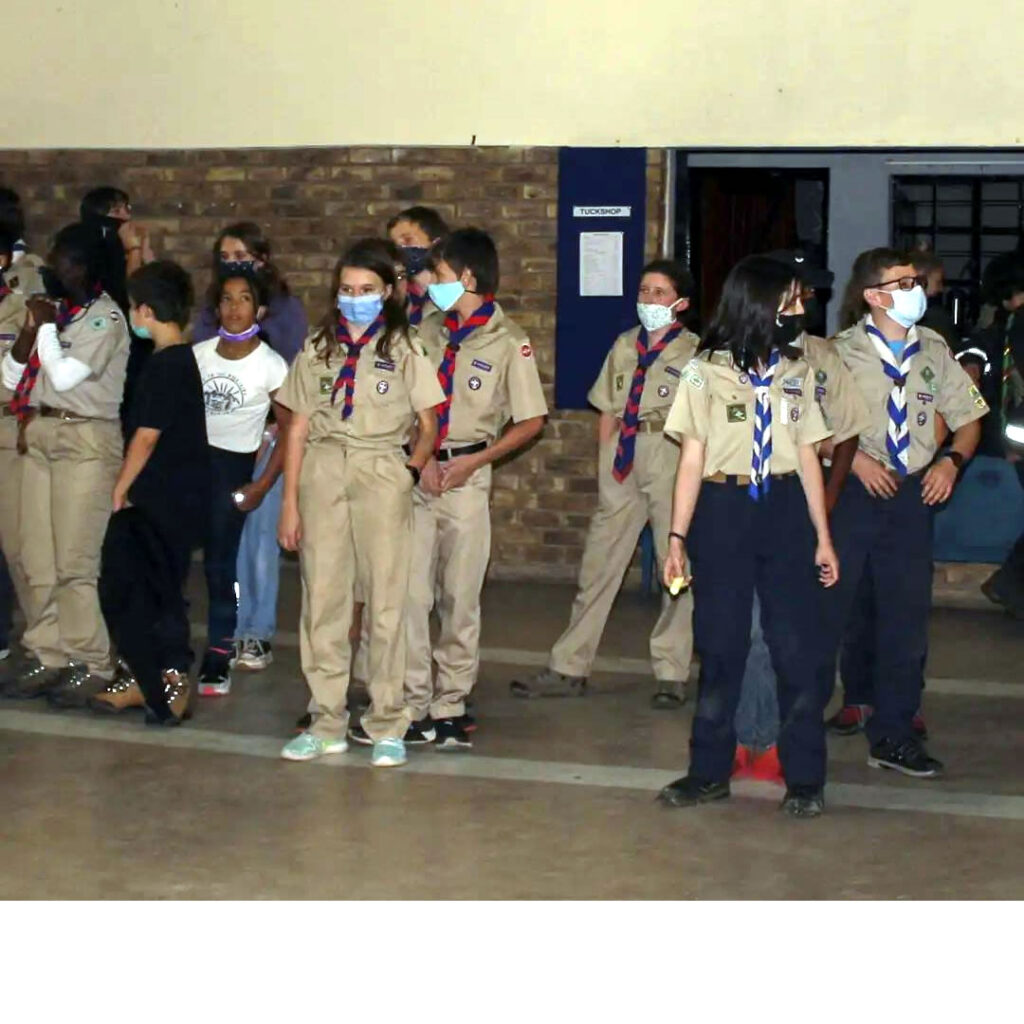 The 3rd phase of scouting and are guided by the Scout Trail. This adventure trail includes a wide range of activities such as hiking, camping, abseiling, swimming, survival skills, first aid or even flying! Scouting is an awesome and creative way to have fun, meet new people and active outdoors while exploring the world around you!
is the 4th phase of scouting and they get the opportunity to indulge in their love for the outdoors while being of service to others with a strong focus on community engagement and social inclusion. Rovers develops leadership qualities and encourages Crew Members to grow themselves and find their path in life.
Rovers is open to all young men and women aged between 18-25. Being a Rover gives you access to a world of adventure, excitement, and challenge! You also don't have to have been a Cub or Scout or Guide to join Rovers.
Rover Crews also thrive on social activities such as harbour cruises, inter-crew activities, sailing, hiking, camping, Minute to Win it Challenges and national and international events known as "Moots".
Rovering can also enhance your CV and increase your value within the employment market as it not only expands physical abilities but also develops character skills such as leadership, problem solving abilities, independence, … which are highly sought after within our current society
Flexible as the crew decides